This is the second part of an informal interview with Slovak ex Prime Minister, professor Iveta Radicova. In this video, she addresses the question: "Do Slovak institutions behave like European ones ?" with enumeration of three principles which Slovak Republic aspires to share with Europe:
EU Council presidency trio meet Greek PM Tsipras
Representatives of Netherlands, Slovakia and Malta – the "trio" of nations who hold and will hold the EU presidency in 2016 and 2017 – met Greek Prime Minister Alexis Tsipras at the Maximos Mansion in Athens.
Malta was represented by parliamentary secretary for the EU funds and the 2017 presidency Ian Borg, while Dutch foreign minister Bert Koenders represented the Netherlands and Slovak foreign minister Mirosalv Lajcak_pm_tsipras_">Read more...)
Statement by MFEA SR on presentation of 2016 Secretary of State's International "Woman of Courage" Award to Zuzana Števulová, Director of the Human Rights League
The Ministry of Foreign and European Affairs of the Slovak Republic appreciates the recognition of the activities carried out by the non-governmental sector in Slovakia as shown by the presentation of the Woman of Courage award of the U.S. Secretary of State, John Kerry, to Zuzana Števulová, Director of the Human Rights League.
A comprehensive approach to addressing the refugee crisis calls for involvement also of the non-governmental and private sectors with their specific mission in civic society. (Read more...)
sk16.eu again under denial-of-service attack
During Easter period 2016, SK16.eu website has suffered a so-called denial-of-service attack. This had gradually lead to slowing down and temporary inaccessibility (on March 30th) of the main portal (eu2016.sk16.eu). This is already the second time within a month that the website was attacked, a technically very similar attack has been identified already a month ago.
The list of the IP addresses from the recent attack is available here, the list concerning the first attack is here.
In name of Slovak civil society, we at sk16.eu kindly ask those persons which ordered the attack to be committed to negate their order since we at sk16.eu have no intention whatsoever to stop doing what we do, and such crude and brute means motivate us to be more stalwart when it comes to intelligence which can be potentially leaked through this tactical medium during upcoming six months of first Slovak Presidency of the Council of Ministers of European Union.
To all other followers of this project, we apologize for temporary reduction in quality of services we provide.
Slovak MPs wear yellow stars to protest far-right party
Two Slovak MPs on Wednesday donned yellow stars associated with Jews in the Holocaust in protest at the "dangerous" parliamentary debut of a far-right party they condemn as "fascist."
The opposition MPs wore the stars to an inaugural session of parliament following the country's March 5 election, in which the Our Slovakia party won 14 seats. Our Slovakia entered parliament for the first time following an election campaign in which major parties, including Prime Minister Robert Fico's winning leftist Smer-Social Democracy, took staunchly anti-Muslim and anti-refugee positions.
Our Slovakia leader Marian Kotleba, 38, is known for his hostility to both the Roma minority and the "establishment" and for leading street marches with party members dressed in neo-Nazi black uniforms. All parties ruled out cooperating with him. Kotleba "is a neo-Nazi" who reaped the benefits of Fico's "nationalist rhetoric regarding migrants," analyst Samuel Abraham, head of the Bratislava International School of Liberal Arts, told AFP. Fico sealed a coalition deal with three right-wing and centrist parties last week, handing himself a third term and averting the risk of an early election ahead of Slovakia's EU presidency. The ex-communist country of 5.4 million people is gearing up to take the rotating six-month helm of the EU from July — a role that will put the health of its democracy in the international spotlight. (Read more...)
President Kiska appoints new Slovak government
Slovak president Andrej Kiska appointed Smer leader Robert Fico as leader of the new government and approved its composition. The government now has 30 days to bring its programme statement before parliament which then needs to express its trust in the cabinet.
Fico has become prime minister for a third time, but following his previous one-party cabinet, he now heads a coalition one, composed of four parties: Smer, the Slovak national party (SNS), Most-Híd and Sieť (Network). Smer will have eight ministers, SNS three, Most-Híd two and Sieť one, the SITA newswire wrote.
Representatives of the four parties agreed on 11 programme priorities for the years 2016-2020. In foreign and European policy, this means a clear continuity of the pro-European and pro-Atlantic orientation of Slovakia, with updating of the country's security and defence strategy, and boosting care for Slovak expats also being agreed upon. (Read more...)
First announcement concerning the release of official SKPRES2016 website
Official website of 1st Slovak Presidency of Council of European Union shall go online in May 2016, announced today the newsletter published by Ministry of Foreign and European Affairs of Slovak Republic.
Newsletter describes the web as follows: "[it] shall dispose of modern responsive design and attractive features." According to the newsletter, the website shall be accessible at the address eu2016.sk . (Read the newsletter [sk]...)
Hyperloop investors eye Slovakia
Bratislava is one of last capitals in Europe which does not have an underground transport system but it is now closer than any other European city to obtaining one of the most advanced transport technologies in the world.
Representatives of the Economy Ministry and US company Hyperloop Transportation Technologies signed a memorandum of cooperation in early March, the American website The Verge reported. The plan now is to explore the potential of building a pneumatic tube-based travelling system between Bratislava and Vienna by 2020, shortening the journey time from about an hour to eight minutes. (Read more...)
GLOBSEC 2016 again in cooperation of the Slovak Foreign and European Affairs Ministry and the Slovak Atlantic Commission
State Secretary of the Slovak Foreign and European Affairs Ministry Igor Slobodník and Managing Director of the Slovak Atlantic Commission Milan Solár signed an agreement on cooperation in preparing the GLOBSEC 2016 strategic security forum today.
The eleventh year of the event will again bring prominent politicians and experts from at least four continents of the world to Bratislava in April.
Having signed the agreement, Slobodník recalled the core mission of the more and more prestigious Central European security forum - "to shape political views and public opinions on the most important questions of the day". (Read more...)
Dignified and Successful Presidency of the EU Council Defined as a Priority of Nascent Slovak Government
Four slovak political parties discussing the form of future Slovak government have announced that "dignified and successful proceedings" of historically first Slovak Presidency of Council of Ministers of European Union (skpres2016) is included atop the list of priorities in the domain of foreign and european politics.
Other priorities include:
clear continuity in pro-european and pro-atlantic course of Slovak Republic
strenghtening of position of national parliaments (in accordance with agreement between EU and Great Britain)
actualization of security and defense strategy
reinforcement of care for slovak expatriates
So-called "program priorities of government" were signed by Robert Fico, leader of dominating pseudosocialist party SMER; Andrej Danko - leader of SNS who slowly transforms the party SNS into that of "moderate nationalists"; Bela Bugar - leader of party Most-Hid ("Bridge") mainly supported by hungarian minority and Radoslav Prochazka, charismatic leader of centrist party #Siet (Network).
Slovak and Swiss MFAs discuss Slovak Presidency of the EU Council
Deputy Prime Minister and Minister of Foreign and European Affairs of the Slovak Republic Miroslav Lajcak Republic in the Council of the European Union.
There are several open questions between the European Union and Switzerland at the moment. EU-Swiss relations have recently faced added complications following the Swiss referendum as of February 2014 on limiting excessive migration – including from EU countries, and both sides are currently involved in talks on how to implement its result without limiting the existing free movement of people agreements. Due to the situation incurred, EU-Swiss negotiations on several other joint agreements are also currently on hold. The resolving of some of these open issues may culminate during the Slovak Presidency of the Council of the EU in the latter half of the year.
"Slovakia wants to constructively contribute to finding bilaterally acceptable solutions that will move relations between Switzerland and the European Union forward," stated Lajcakom-predsednictve-v-rade-eu/10182">(Read more...)
Leader of new parliamentary party associated with organized crime
Boris Kollár, leader of the Sme Rodina party which will hold 11 seats in the new slovak parliament, was probably monitored by the intelligence service in the past for his alleged contacts with gangland figures. This stems from documents leaked to certain media.
Two documents, marked as reports of the former Office for the Protection of the Constitution and Democracy, are dated September and October 1990. They have the same structure as reports made by the communist-era secret police ŠtB before 1989. After the Velvet Revolution the Office was responsible for counter-intelligence tasks and operated under the federal Interior Ministry, Sme reported in its March 9 issue.
The report from October 1990 relates to the activities of then illicit money-changer Peter Steinhübel, who later became one of the bosses of organised crime in Bratislava. He was murdered in August 1999. Three months later, another organised crime figure, Roman Deák, who is also mentioned in the documents, was killed. According to the documents, Steinhübel was involved in drug trafficking. To organise transport, he appointed his flunkeys Roman Deák, Boris Kolár and Ján Daniš who, according to the documents, "deal with the illegal exchange of money". (Read more...)
Slovakia vote shocks Europe and its own society
Slovakia's election result has taken politicians and broad public by surprise. The party of prime minister Robert Fico came first in the vote on Saturday (5 March) but secured only a third of the seats in a parliament divided between nine parties. The outcome sparked speculations on possible coalitions and their stability as well as a spontaneous initiative to hold anti-fascist protests in the capital Bratislava.
Commentators are sceptical about chances for a quick solution but several suggest that the looming EU presidency by Slovakia, starting in July, and the entry of LSNS in parliament will be the driving forces pushing for a deal. "Any coalition, even among the strongest pre-election enemies, is possible under these circumstances," Samuel Abraham of the Bratislava International School of Liberal Arts told EUobserver. (Read more...)
Slovakia turns unpredictable ahead of its EU presidency
The Smer-Social Democrats (Smer-SD) party of Prime Minister Robert Fico lost its majority and will have difficulties forming a coalition government, following elections held on 5 March. The new parliament will be extremely fragmented, with neo-Nazi and protest parties present, leading to speculation about early elections.
Many of the scenarios pose questions regarding the looming Slovak Presidency of the Council of the EU, beginning on 1 July. Many have anticipated that not much will change in Slovakia, with Robert Fico being able to comfortably stay in the prime minister's office, taking on one junior coalition partner. The voters distributed the cards much differently, however. (Read more...)
Nash Equilibrium as an Antidote to Slovakia's 2016 orange-brown Post-Electoral Crisis
In game theory, the Nash equilibrium is a solution concept of a non-cooperative game involving two or more players, in which each player is assumed to know the equilibrium strategies of the other players, and no player has anything to gain by changing only their own strategy.
In reality, the results of yesterday parliamentary elections in Slovak Republic indicate that less than 4 months before assuming the responsibility for its first historic presidency of Council of Ministers of European Union, a central european country with population of 5-milions just converged into a particular state - an antipode to the One postulated by Nash . That is, Slovakia is on the verge of falling into a so-called "fash equilibrium". That is, a situation of Nash equilibrium whose principal actors are facists. (Read the 1st sk16.eu analysis)
Slovak MFA Positive in regards to Further Progress of Turkey's EU Accession Process
Slovakia supports opening of further chapters concerning the accession of Turkey into European Union. "I personally consider as mistaken a decision to interrupt the accession process because of short-term political interests. It is not a proof of our seriousness when we first open the process and then block it because of political reasons." said Slovak Minister of Foreign and European Affairs Miroslav Lajcak press agency SITA.
In the interview, Slovak MFA - who also serves as a Deputy Prime Minister - has also rearticulated his opinion that it would be much better if the whole process of Turkey's accession would "follow normally and without pressures" instead of being a process which resembles a sort of a "barter trade". Hence, "new dynamics in accession negotiations" as well as "liberalization of visa-regime" are needed, added Lajcakodobe-zaujmy.html">Read more...)
Greek MFA announcement regarding the statements of Slovak Prime Minister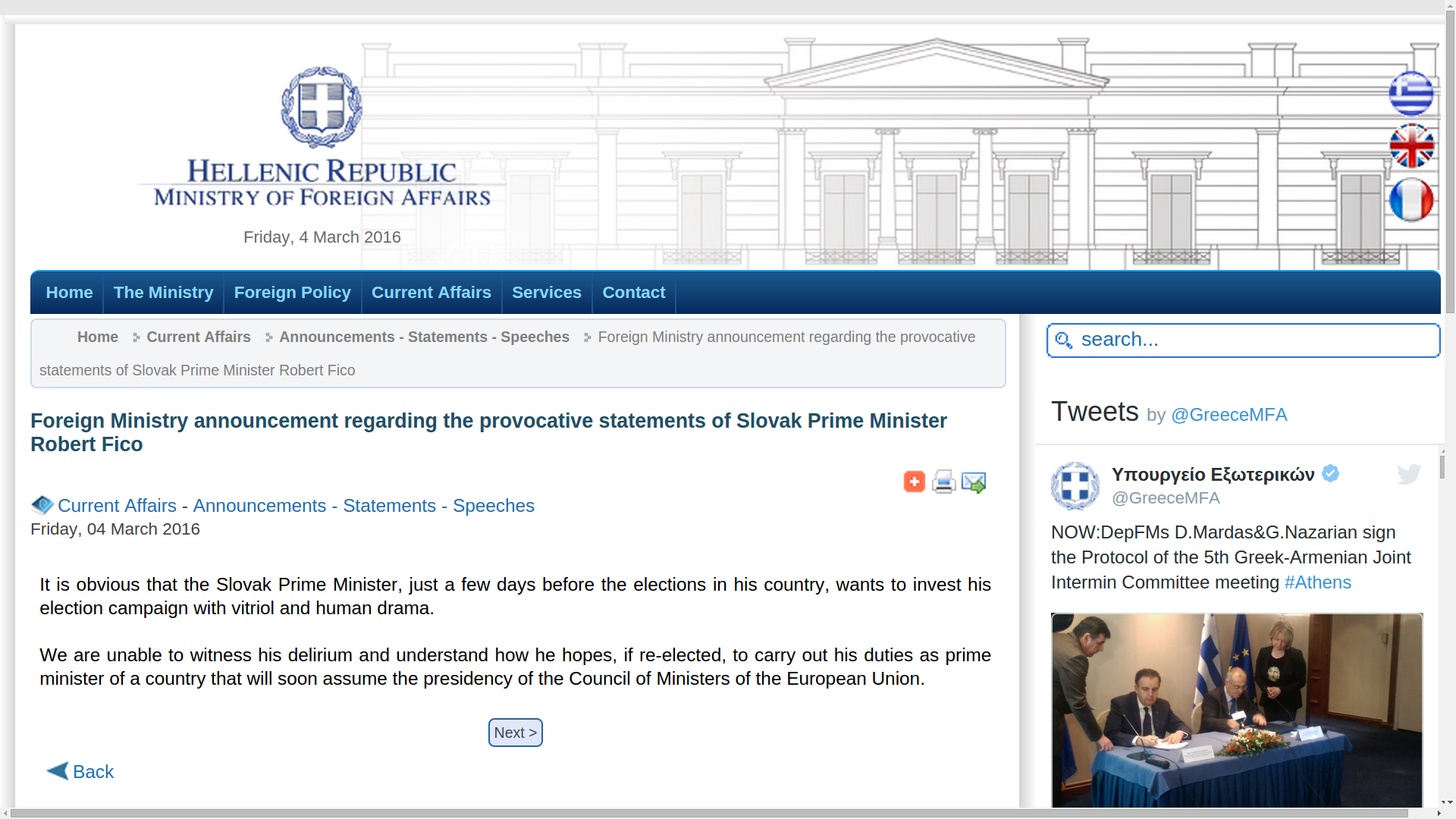 Slovakia's Fico set for election win, reinforcing Europe's EU dissenters
Slovak Prime Minister Robert Fico is on course to win another term in parliamentary elections on Saturday, maintaining an anti-immigration alliance with his European Union neighbours, Hungary's Viktor Orban and Poland's Jaroslaw Kaczynski.
Fico, 51, is a self-proclaimed Social Democrat but fits in with his two conservative peers when it comes to a focus on national pride, social conservatism and strong opposition to immigration.
Many in Brussels are watching the election and Fico's views on migration because Slovakia will hold the rotating six-month EU presidency from July, giving it a bigger voice in EU discussions. (Read more...)
Will Slovakia's Government Return To The EU Mainstream Ahead Of Its EU Presidency?
Slovak general elections do not usually get attention beyond the immediate neighbourhood. However, with the SK EU Presidency approaching and a controversial stance on the migration crisis, questions arise on what might change after this Saturday.
Whatever the shape of the next government, would it change anything on the country's strategic course in the EU? There are two reasons for this question. The first is the Slovak EU presidency that starts in July 2016. The presidency country is due to perform a role of honest broker in negotiations over many issues, some of them very sensitive. And here we come to the second reason. The Slovak government has angered many European partners with its stance in the refugee crisis. Fico may have found friends in Hungary's Viktor Orban and the new Polish government, and he may argue that the current situation, with borders closing in Europe, is proving him right, but with anti-Muslim scaremongering and radical rhetoric he has clearly crossed the line. At least, for a "social-democratic" politician. Would the next government be more pro-European? (Read more...)
Netizens embrace the official SKPRES2016 logo with positive sentiments
47% of participants of the poll concerning the question "What sentiments do You have in regards to the official logo of Slovak 2016 Presidency of EU?" have answered "positive". The answer "negative" received a little more than half as many votes (24%). 29% of participants labeled their attitude towards the logo as "indifferent".
While the results of the poll itself are not statistically significant due to limited size of the polled sample (38 votes) and can be, with cca. 1/5 probability explained as a result of a mere chance (non-directional p-value~0.197), they nonetheless indicate that MFEA's choice of logo of the upcoming Slovak Presidency of European Council was a good one indeed.
This hypothesis is further corrobated by a fairly reasonable evaluation of logo by slovak citizens active on social networks. Hence, only few tentatives making fun of the logo appeared (1, 2, 3) and were of little visual and|or intellectual interest. Exception among these was a variant proposed by a Bratislava-based NGO Cyklokoalicia which has decided to embrace the biggest event of modern Slovak history with following visuals: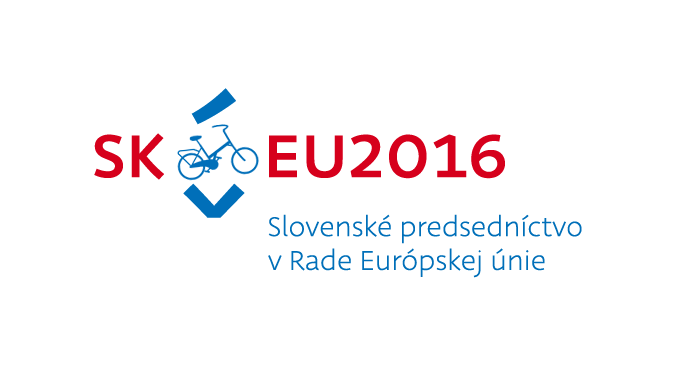 Good luck, CykloKoalicia, and may Your breaks not betray You!
sk16.eu server under DoS attack
Reasons behind a recent slowdown of this website have just been explained. Since February 26th, our servers had to deal with more than 70 thousand requests targeting the most computationally demanding scripts publicly accessible on our machines.
File containing the list of malevolent IP addresses is available here and has been just forwarded to authorities. Unfortunately, whole thing seems to be reminiscent of a fairly standard denial-of-service attack executed through so-called botnets. It thus cannot be excluded that somebody - be it a person, a group or on institution - considers the very existence of this website so disturbing that recourse to such brute methods seem to be in his (or her) eyes as justified.
We hereby let the entity behind the attack know that violence and intrigues are not a means how one could influence the content we publish and the way how we publish it. And we ask our readers to excuse occasional slowdowns which may potentially occur before our project migrates to stronger hardware.
Slovak Minister of Transport and Minister of Interior allegedly tied to VAT fraud
Shortly before the elections two ministers and top politicians of the ruling Smer party face allegations of involvement in an international VAT fraud scheme from 2007-2011.
The fraud committed by the group of businesspeople cost the state at least €75 million. In carousel fraud, the fraudster charges VAT on goods in a multi-jurisdictional transaction without paying the tax owed to the state. Such schemes often involve transactions of agricultural products, like grain, sugar and sunflower oil, as well as mobile phones. More than 100 Slovak, Czech, Polish, Latvian, Hungarian, but also Irish and American companies were making fictitious transactions, mainly with bricks, platinum, or investment gold. At the centre of the scheme was the Tatra Trade Corporation (TTC) company.
The Trend weekly reported January 27, 2016 that it had a document in its possession "resembling an investigation file". The file, which Trend "cannot vouch to be 100-percent true", contains a record of interviews with the lawyer Milan Chovanec, who had already admitted to comission of crime in November 2013. In file leaked by Trend, Chovanec mentions the current Interior Minister Robert Kaliňák and Transport Minister Ján Počiatek as involved in the fraud. The two men, who served as ministers also in 2006-2010 government, were allegedly helping to cover up the corrupt act. (Read more...)
During SKPRES2016 Bosna & Herzegovina can Count with Slovak Support of its EU Integration Ambitions
State Secretary of the Ministry of Foreign and European Affairs of the Slovak Republic Igor Slobodník held talks with his Bosnia and Herzegovina´s counterpart, Deputy Foreign Affairs Minister of Bosnia and Herzegovina Josip Brkić on 24th February.
Slobodník congratulated his counterpart on having submitted its EU application on 15 February 2016, as he considers this to be an important step in realizing the European integration ambitions of his country. "I believe that submitting the EU application will stimulate even more the speed of the progress made by Bosnia and Herzegovina towards the European Union," stated Slobodník. The State Secretary confirmed Slovakia's support to Bosnia and Herzegovina in its Euro-Atlantic ambitions and its readiness to assist the country also during the upcoming Presidency of Slovakia of the Council of the European Union. (Read more...)
Slovak PM Confident in Selling Cheap Domestic Labor to Foreign Investors
Slovakia's government is finishing talks on foreign investment projects worth as much as 1 billion euros ($1.1 billion), which will allow the eastern euro-area member to boost growth and help cover the costs of increased social spending, Premier Robert Fico said.
Announcements on some of the projects will happen "in the coming days," Fico said in an interview Tuesday in the capital Bratislava. The 51-year old former lawyer, who's seeking his third term as prime minister in March 5 general elections, said keeping Slovakia among the European Union's fastest-growing countries is his priority.
"We will fight for every investment -- I care a lot that Slovakia excels in economic growth," said Fico seated in the government office. "I believe that with effective tax collection and savings, such as on public administration, we can generate hundreds of millions of euros for new social measures."
What the PM did not said, however, was that the reason why Slovakia attracts foreign investors is simple indeed: with 611 € median monthly wage (i.e. three-times lower than that of neighboring Austria), the price of Slovak labor force belongs to cheapest in European Union and is therefore of non-negligable interest for cost-reduction oriented investors.
Simply stated, the key to national economic growth according to the Supreme Leader of the party SMER can be described as such: sell the land and people for a cheap price, reroute part of money into deposit of the ruling political party, distribute the surplus among oligarchs and then use the media machinery (owned by the very same oligarchs) to convince the majority that it should consider its increasing enslavement as a feat of economic success. (Read more...)
Hundreds slovak university lecturers join the teacher strike
Not less than 504 lecturers from 19 universities have taken part in the strike organised by the Initiative of University Teachers (IVU), according to the February 22 data.
The strike was recently joined by staff from the Faculty of Informatics and Information Technologies of the Slovak University of Technology in Bratislava, the Faculty of Social and Economic Sciences of Comenius University in Bratislava and the Pedagogical Faculty of Trnava University. Marches in several Slovak towns are scheduled for February 24, with the lecturers on strike planning to "beat out the truth on Slovak education". (Read more...)
Hranol outlines four priorities for Slovak EU Presidency
Slovak Prime Minister Robert Fico outlined four issues that might influence the country's agenda during the Slovak Presidency of the Council of the European Union, which is scheduled for the second half of 2016.
After a session of the Solidarity and Development Council on the country's upcoming Presidency of the EU Council on Monday, Fico referred to Greece's financial crisis, the Nord Stream 2 project, Britain's withdrawal from the European Union and security threats connected to migration and the situation in Ukraine and Syria. "Such a tough role can only be handled by a strong government," added Fico, also known as Hranol in certain intelligence circles.
According to Fico, Slovakia will have to spend around 70 million euro (77.15 million U.S. dollars) on the presidency. (Read more...)
Slovak Ministry of Foreign and European Affairs unveils the official logo of 2016 Presidency of European Council
The official logo and related materials (PressKit, Presskit FAQ, Author info) of 1st Slovak Presidency of European Union (SK PRES 2016) have recently appeared on the website of Ministry of Foreign and European Affairs of the Slovak Republic.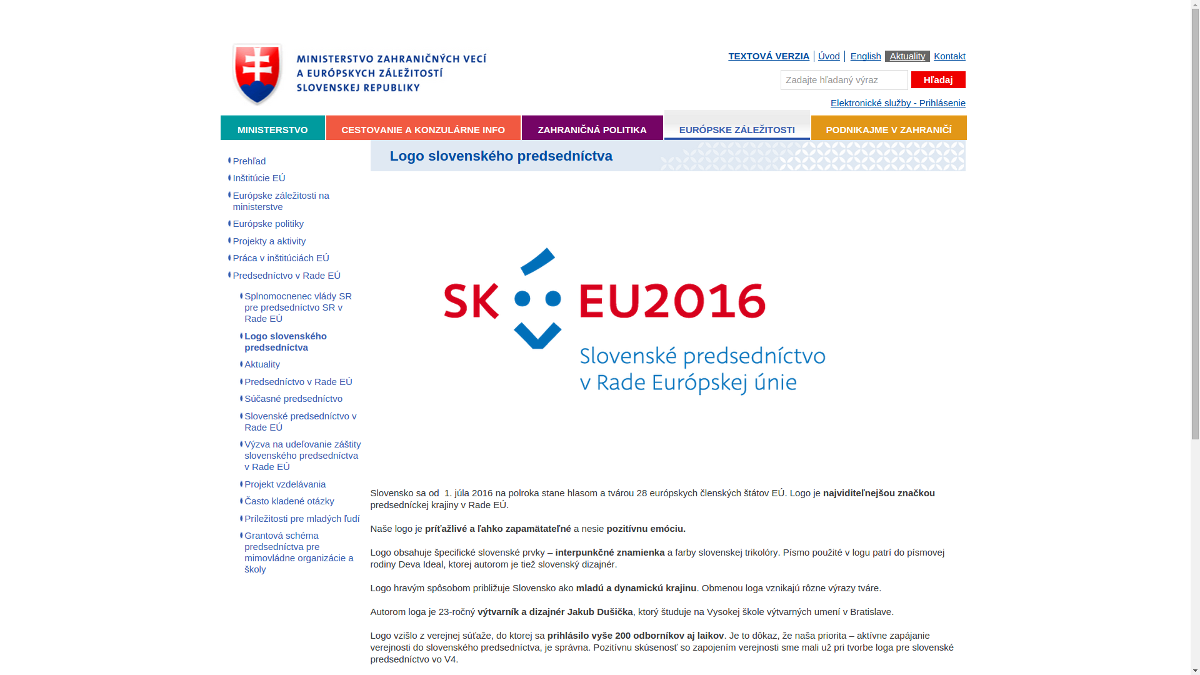 According to MFA's website, logo's ludic objective is to present Slovakia as a young and dynamic country. Logo which integrates specifically slovak elements (e.g. a diacritic sign and a tricolore) was designed by a 23-year old artist Jakub Dušička and was chosen in a public competition with more than 200 participants. (Read more...)
Slovak-Netherlands: Intensive cooperation in the EU Presidency Trio
Deputy Prime Minister and Minister of Foreign and European Affairs of the Slovak Republic Miroslav Lajcakia will replace it in this function as of 1 July.
In this regard, Minister Lajcak.
"One of the main roles of the European Union at present is its overall stabilization – be it in the process of functioning or adopting decisions and reactions to the current challenges" informed the Slovak MFA. (Read more...)
Fitch and Standard & Poor's affirm A+ rating for Slovakia
Slovakia has been positively affirmed by Fitch Ratings. The agency has affirmed Slovakia's long-term foreign and local currency Issuer Default Ratings (IDRs) at A+, with a stable outlook.
Fitch says that A+ ratings for Slovakia balance robust institutions, including the country's membership of the eurozone. In reality, finances of experts working in Slovak health and education sectors tend to fall into region of red numbers, and when it comes to Slovakia's membership of the eurozone, rhetorics of Slovak PM steadily does his best to undermine it.
Such slovak realities notwithstanding, Fitch rating immitates those of Standard & Poor's who, on January 29 confirmed Slovakia's rating at A+ with a stable outlook thus placing Slovakia, along with Ireland, now has the ninth-best rating from among 19 eurozone countries. (Read more...)
Slovak MFA aims to engage schools and NGOs in the Presidency of the Euro council
As of 10 February 2016, non-governmental organizations and schools can apply for grants (c.f. Call, Topics, Methodic Handbook) from the Ministry of Foreign and European Affairs of the Slovak Republic for events aimed at making the Slovak Presidency of the Council of the European Union more visible. The Presidency will start on 1 July and will last for six months.
"The Slovakia´s Presidency of the Council of the EU is a pan-societal event. We care that the Presidency and European topics are discussed not only in Bratislava but also in the regions, cities, towns and villages all over Slovakia," said Ivan Korčok, the Government Plenipotentiary for the Slovak Presidency in the Council of the European Union and State Secretary of the Slovak Foreign and European Affairs Ministry.
Total amount of grant money to be distributed is 320 000 €, i.e. little bit less than half percent of estimated budget of SK PRES 2016. (Read more...)
Slovak PM indicates potential collapse of European Project during the year of Slovak EU Presidency
The European Union will either manage to get migration under control this year or it will collapse, Prime Minister Robert Fico wrote in an article published on Tuesday. A baptized communist with nationalist rhetorics, JUDr. Fico has long held a tough anti-immigration stance and made tackling the flow of refugees the main platform of his campaign for Slovakia's March 5 parliamentary election.
"Whether someone likes it or not, 2016 will be the year when the EU will either get the migration crisis under control or collapse." wrote Fico in business daily Hospodarske Noviny. Note that it is from July of this very year, i.e. 2016, that Slovakia shall Preside the Council of European Union hence putting a doctor Fico into a position whereby he could execute effective measures so that his prophecy-like statemens could potentially get self-fulfilled.
In other terms, current Slovak Prime Minister is a "socialist" who does not hesitate to rhetorically put the future of the continent at stake in exchange for scoring some points among xenofobic part of his domestic pre-electoral audience.
From the context and content of such statements, it is once again evident that doctor Fico - coloquially known as Hranol by fellow peers - does not have a clue niether about complexity of the situation, nor about solidity of European project. Unfortunately, it may also be the case that from a position of a supreme leader of the politbureau of the party SMER which controls practically all Slovak instituions of power, Fico considers hard-working people in Brussels as stupid (bureau|techno)crats and values on which the European project is founded: that is, diversity, education and solidarity...are simply not a part of his mental and moral repertoire. (Read more...)
Slovakia's Tiny Stock Market is Bucking a Global Trend
It's been a brutal start to the year for equity investors. Unless, that is, you are in Slovakia, a country which shall soon preside the Council of European Union.
This year-to-date the S&P 500 has fallen 8%, European stocks are down 13% and Asian investors have seen their portfolios pummeled. But Slovakia's tiny SAX index was up 6.4% in 2016 through end-Friday, taking gains for the past 12 months to 36.6%. (Read more...)
Minsk to Host Visegrad Group Delegation
Political directors of the Ministries of Foreign Affairs of the Visegrad Group countries (Hungary, Poland, Slovakia, and the Czech Republic) will visit Belarus today. The Visegrad Group delegation is set to meet with senior officials of the Belarus Ministry of Foreign Affairs as well as the representatives of the Presidential Administration and the Government of Belarusia.
"Such issues as the interaction between Belarus and Visegrad Group countries, the status and prospects of cooperation between Belarus and the EU, and also regional security issues are to be discussed at the meetings," - the press service of the Ministry of Foreign Affairs of Belarus informs.
The visits of the Western politicians will be held in the lead-up to the meeting of the Foreign Affairs Council of the European Union, which is scheduled for February 15 in Brussels. The sanctions against Lukashenko and his entourage are also on the agenda. (Read more...)
EU2016SK: Bratislava faces repairs and improvement
Vast construction and beautifying works in the streets of the Slovak capital will start in upcoming months. Thus, Bratislava will patch and improve all that can be done in the short time until June, to raise its appeal to the expected 20,000 visitors and delegates who will arrive in the capital of the country presiding over the EU Council.
However, many Bratislava citizens and urban activists are quite sceptical in regards to such efforts and label them as 21st century reminiscence of a traditional oriental concept of a nicely furnished Potemkin village. (Read more...)
sk16 congratulates architects of Wendelstein 7-x on occasion of unleashing Europe's hottest sterellator hydrogen plasma
Germany's Chancellor Angela Merkel switched on the first Wendelstein 7-X hydrogen plasma on 3 February 2016 at a ceremony attended by numerous guests from the realms of science and politics. This moment marked the start of scientific operation of Europe's most powerful fusion reactor of a sterellator type which paves the path towards solution able to cover mankind's growing energy without failing necessary climate goals. Good luck, Wendelstein!
SK PRES 2016 is to be commemorated with commemorative €2 coin
Slovakia has announced plans to commemorate the first Slovak presidency of the Council of the European Union with a circulating commemorative €2 coin. One million coins celebrating the event are due for release sometime in March.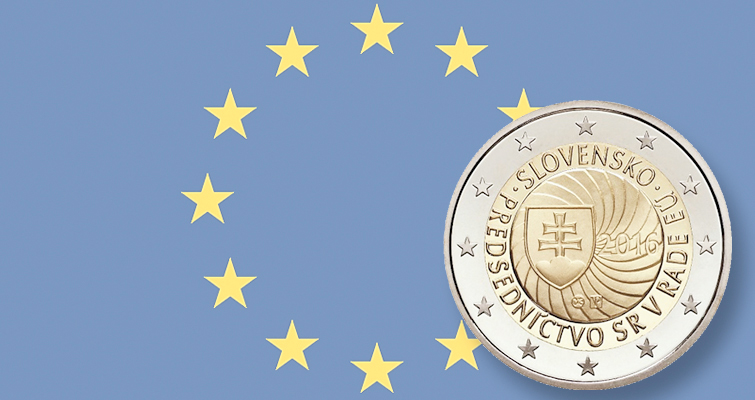 The obverse of the coin is dominated by the coat of arms of the Slovak Republic at its center against a background of dynamic lines representing the position and importance of the Slovak Republic during its presidency of the Council of the European Union. To the right of the coat of arms of the Slovak Republic is the year 2016. Around the edge of the inner circle is an inscription translating to "Slovak Presidency of the EU Council". (Read more...)
Slovak Presidency of the Council of the EU will also be about Boosting of Economic Growth
Boosting the economy and economic growth will be one of the objectives of Slovakia's Presidency of the Council of the European Union. This was emphasized by Miroslav Lajcak and international business leaders today.
"We want to make sure that the future of the EU stands on a sounder economic foundation, we want to focus on full use of the potential of the single market, on promoting a favorable business climate and creating jobs," stated the Minister and added "The Presidency of the Council of the EU is a society-wide event where cooperation with the private and business sectors is indispensable". (Read whole speech...)
Dutch embassy opens the trio EU Presidency of the Netherlands, Slovakia and Malta
To mark the start of the Dutch EU Council Presidency, as well as a joint Trio Presidency of the Netherlands, Slovakia and Malta in the EU Council, the Embassy of the Netherlands in Bratislava, in collaboration with the Slovak Ministry of Foreign and European Affairs have organized both contemporary as well as classical concert.
The concert took place in a neo-renaissance building of Slovak National Theatre. Described as "simply beautiful" and "being of high cultural value" by all spectators interrogated by sk16.eu - the venue was opened with the Anthem of the European Union performed by the Music of the Ministry of Interior of the Slovak Republic. Also included in the program was a talk held by Dutch Ambassador Richard Van Rijssen which presented the EU Presidency Trio to slovak audience. (Read more...)
Slovak teachers go on strike
Thousands of Slovak teachers have gone on strike to demand higher pay, forcing authorities to close hundreds of schools across the country. Organizers say more than 11,000 teachers from over 700 schools are participating in the strike.
They say the average salary for teachers in Slovakia is only about 650 per month and has barely increased in the last five years. For comparison: in neighboring Austria where costs of living are comparable (or often lower) than in Bratislava, the minimum basic statutory salary of a public school teacher is more than four times higher in Slovakia. (Compare pages 74 and 84 in EACEA Analysis of Teachers' and School Heads' Salaries and Allowances in Europe)
Hundreds of Slovak nurses leave hospitals
Several hundred slovak nurses and midwives will start leaving their posts in hospitals across the country in February. Main reasons of their strike is the law on salary conditions adopted in November 2015 as well as deteroriated and evermore deteriorating working conditions.
The Health Ministry assures patients that the hospitals will manage the situation even after February, but some associations point to the critical state, especially in facilities where a considerable number of nurses want to leave.
A baptized communist he is, the plenipotentiary Prime Minister Judr. Robert Fico respects the right of every person to protest. But at the press conference held on January 19, he has turned out to be rather critical of the way how nurses show their disagreement. "I would not leave the patients," said the supreme leader (Read more...)
Slovak Ministry of Foreign and European Affairs Publishes Call for Granting Auspices during 2016 Presidency of European Council
The Ministry of Foreign and European Affairs of the Slovak Republic seeking to involve the widest possible circle of domestic partners in Slovakia's first Presidency of the Council of the European Union, has offered a unique opportunity to non-governmental organizations, municipalities, cities, regions, schools and other organizations to include the auspices of the presidency during their planned events.
"Our Presidency of the Council of the EU is a society-wide role and an opportunity to present all of our country. It is of great importance to us to make sure that this role is disseminated in the widest possible general and professional public, in the regions, cities and municipalities all across Slovakia. Through granting auspices during Slovakia's Presidency we seek to give more visibility to events that will contribute to society-wide discussion and raise interest in our Presidency and the European Union as well," said Minister Lajcak/web/en/news/detail/-/asset_publisher/oLViwP07vPxv/content/mzvaez-sr-zverejnuje-vyzvu-na-udelovanie-zastity-predsednictva-v-rade-eu/10182?p_p_auth=dDT3gopv&_101_INSTANCE_oLViwP07vPxv_redirect=%2Fweb%2Fen">Read more...)
Slovakia's PM vows never to settle Muslim refugees
"Not only are we refusing mandatory quotas, we will never make a voluntary decision that would lead to the formation of a united Muslim community in Slovakia, This is the only way to eliminate the risks," Fico said last week, rejecting a European Union plan to resettle 120,000 refugees among 26 of the EU's 28 member states.
Fico has also called for a summit of EU members to address immigration and refugee issues. In December, his left-nationalist government filed a lawsuit challenging the EU decree that it must accept 802 migrants irrespective of their religious background. Poland, Hungary, Romania and the Czech Republic also oppose the refugee plan, according to CNS News. (Read more...)
Hranol calls for emergency EU summit
Profoundly traumatized by New Year's Eve events in Cologne, supreme leader of the Party which governs the Slovak Republic, Prime Minister Juris Utrisque Doctor Robert Fico tries to save the chastity of "Jungfrau Europa" (and further impress the Slovak pre-electoral audience) by articulating a following call:
"I call on the president of the European Council, Donald Tusk, and the president of the European Commission, Jean-Claude Juncker, to look into accelerating the decision on putting in place a European coastguard and border guard corps" Fico told reporters. (Read more...)
Slovakia is "half-chairing" the EU
Since January 1, Slovakia is in the state of "half-chairing" the European Union, Ambassador, Permanent Representative of the Slovak Republic to the EU, Peter Javorčík, said as quoted by the TASR newswire.
"We are closely monitoring the steps and activities of the beginning of the Dutch presidency of the European Council, well aware of the fact that part of the European agenda will probably fall also on the shoulders of the Slovak presidency starting July 1, 2016," he added in the beginning of January.
A whole team has already been completed to ensure effective execution of the Slovak EU presidency: there are about 170 people in Brussels. (Read more...)
Slovak Republic celebrates its 23rd anniversary
Modern Slovakia was born on 1st january 1993, as a consequence of a non-violent split of former Czechoslovak Federative Republic into brethren Slovak and Czech Republics. Asides the 2nd world war "Slovak State" satellite of the nazi Germany, the current SK republic is a first modern-era tentative to establish an autonomous administrative formation on plains, hills and forrests amidst the Panonian Basin and Tatra mountains.
During the 23rd year of her* existence, Slovenska Republika shall be confronted with multiple tests of her* maturity, e.g.
March 2016 : parliament elections
June 2016: first participation at UEFA EURO 2016 Football Championate
July-December 2016: Responsibility for her first presidency of Council of European Union
all year long: legal unfoldement of Fico's pre-electoral "SK sues EU" antirefugee-quota stratagem; judiciary unfoldement of many corruption affairs (1, 2, 3)
et caetera...
May 2016 be a year engraved onto pages of history as
Slovak SternStunde
and not as another year whence stupidity and corruption shamefully reigned the country claiming to host "
the geographical center of Europe
".
* similiary to french and german languages, the personal noun "Republika" is considered to be a feminine (and not neutral) substantive in slovak language. For this reason we shall refer to the term with feminine pronouns like "her" and not neutral pronouns like "it".
Official Website of Dutch Presidency finally online
The organization commitee of Dutch January - July 2016 Presidency of European Council has finally decided to make public their official website.
In spite of its apparent simplicity and tidyness, the nicely responsive website contains many pieces of useful information (e.g. the 1st general media note in the "Documents" section etc.).
Slovak ex Prime Minister answers the question: Is Slovakia in the EU?
First person interviewed for sk16.eu project was first woman Prime Minister of Slovakia (from 2010 to 2012), professor Iveta Radicova. In this video, she answers a seemingly trivial question: "Is Slovakia in European Union ?".
More videos shall soon follow on sk16 subproject osveta.
Cabinet approves €15 million for Bratislava for the EU presidency
Slovak government has approved €15 million for the city of Bratislava to prepare for Slovakia's presidency of the Council of the European Union in the second half of 2016.
A total of €14 million will be used for projects that come under the remit of Bratislava City Hall and €1 million for projects under the remit of Bratislava's Old Town borough, the TASR newswire wrote. The money will be invested in reconstructing infrastructure and engineering buildings, revitalising public spaces, reconstructing protected cultural landmarks and buildings, projects aimed at cleanliness and greenery as well as marketing, communications and culture.
Slovak Sternstunde: From EURO UEFA 2016 towards European Presidency ?
During their first appearance at UEFA Euro 2016 Football Championate, slovak team shall confront Wales on 11th June 2016 in Bordeaux, Russia on 15th June in Lille and England on 20th June in Saint-Etienne.
What's more, in case of successful advancement into quatre-final, the performance of slovak squadra could overlap with first days of first Slovak Presidency of European Union which shall start on 1st July.
First weeks of summer 2016 thus seem to bring about moments of double historical significance, potentially allowing the young state with population of 5 million, to affirm itself as a solid component of the European project .
Slovak Ministry of Education indirectly threatens participants of Teacher's Initiative
Increasing number of teachers do not fear to express their disapproval of the fact that the salary of a teacher beginning his carreer as a paid employee of Slovak Ministry of Education is 3,83 € (brutto). That is, less than an average babysitter. Thus, many schools, especially from Bratislava region, have joined a strike-like initiative "Babysitting day" to raise the public awareness of their decreasing living standard in a country where cost of food is comparable (or even higher) than in Germany or Austria.
In a reaction to the initiative, Slovak Ministry of Education has published its opinion, labeling the initiative as a violation of working discipline. And "defending itself" with clarification that an average salary of a teacher of Slovak public gymnasium is 941€/163 hours = 5,98 € (brutto)...
The Netherlands, Slovakia, Malta present Trio EU Presidency declaration on gender equality
The Netherlands, Slovakia and Malta, the member states entrusted with the EU Presidency during the 18-month period from January 2016 to July 2017, have presented their declaration on gender equality during the EPSCO Council.
In the declaration, it is stated that achieving gender equality is one of the objectives and tasks of the European Union, and that mainstreaming equality between women and men in all its activities represents a general aim of the Union. Equality between women and men is a prerequisite for ensuring growth, prosperity, welfare, and social inclusion. (Read more..)
Slovakia amends constitution in reaction to Paris attacks
With unprecedented swift & ease did Slovak prime minister JUDr. Robert Fico and the Minister of Interior, JUDr. Robert Kalinak, reacted to the Paris tragedy. Thus, in less than 4 weeks after the attacks, Slovak parliament have passed the constitutional amendment. According to certain high-profile commentators, these amendments could slowly but steadily transform Slovak Republic into a full-fledged police state.
In a 95-25 vote Tuesday, the lawmakers agreed to double the time such a suspect can be detained, from 48 to 96 hours. The amendment also extends to six days the time during which a judge has to decide whether a terror suspect will be kept in detention or released. (Read more...)
Slovakia files a lawsuit against the Council of the European Union
Slovakia has made good on its threat to sue the EU over the imposition of a mandatory quota system to redistribute more than 120,000 people now in Italy and Greece in need of "international protection" throughout the bloc.
Prime Minister Robert Fico aka Hranol said his government had filed a complaint yesterday morning at the Court of Justice in Luxembourg that asks judges to declare the temporary measures adopted by EU interior ministers on 22 September as invalid. (Read more...)
Slovakia prepares to sue EU over migrant quotas
The European Union's quota plan to distribute 160,000 refugees and migrants across the bloc will be appealed by Slovakia.
"The justice ministry, together with representatives of relevant ministries, is working on preparing the lawsuit," justice ministry spokeswoman Alexandra Donevova told the Agence France-Press (AFP). She said it would be "submitted before December 18". Bratislava intends to lodge the suit with the European Court of Justice, which adjudicates in disputes over how EU law is interpreted and applied. (Read more...)
Leaked transcripts discredit the ex-boss of Slovak counter-intelligence
With the upcoming general election nearing, the scenario from 2012 is repeating: a file leaked from intelligence service discredits close ties between corrupted politicians, businessmen – and this time also an intelligence boss.
This time around, the scenario is repeated and on November 20 an anonymous person posted online the file dubbed: Gorilla Slovakia II, allegedly containing transcripts of the conversations of former SIS counter-intelligence's department boss, Ľubomír A. (Read more...)
Slovak Deputy Prime Minister addresses UNESCO and praises Muslim scholars
We in Europe are proud of our historic heritage including Ancient Greek and Roman philosophy. We should remember and occasionally remind ourselves that during the Middle Ages, Greek ideas were largely forgotten in Western Europe. They re-entered the West through translations from Arabic to Latin thanks to Islamic philosophers such as Al-Kindi (Alkindus), Al-Farabi(Alpharabius), Ibn Sina ( Avicenna ) and Ibn Rushd (Averroes). The reintroduction of these philosophies, accompanied by the new Arabic commentaries, had a great influence on Medieval philosophers such as Thomas Aquinas. That has been a real contribution of Islam to Europe. We need more Islamic philosophers and scientists and less hate preachers.
These words were uttered by Miroslav Lajcak's speech in English and French...)
French intellectuals criticize Slovak PM for his reaction to Paris tragedy
Statement of Slovak Prime Minister, doctor Robert Fico that "all muslims in Slovakia are under surveillance" as well as his repeated acts of association of regufees with terrorists had induced many critical reactions. In an interview for journal SME, Anne Dastakian, a journalist for well-known french journal Marianne had reacted: "That terrorists could have exploited the refugee crisis does not mean that all refugees are terrorists. Even Marine Le Pen would not utter such stupidity." (Read more...)
Even sharper critics was expressed by Martin Michelot, researcher in Institute for European Policy EUROPEUM who commented Fico's verbal behaviour as follows: "Such approach is...extremly bad. Comments of Robert Fico only induce fear and panics. I understand that in march 2016 Slovakia shall held elections, but this is very disturbing and unfortunate." (Read more...)
Fico implicitly reinforces the association between migrants and terrorists
In a swiftly yet professionally organised aftermath of Paris 13.11.15 attacks, Slovak Prime Minister Robert Fico hasn't hesitated to interpret the tragedy in a way that suits his pre-electoral needs. While he tacitly ignored the fact that Bataclan attackers looked to be of north African descent and spoke fluent French without an accent, Mr. Fico utilitarized an instantly organized press conference to score political points among xenophobic parts of Slovak electorate.
"We have been saying for several months that the security risks linked to migration are huge," said doctor Fico with a face expressing the satisfaction of a wizard whose dark self-fulfilling prophecy came true. (Read more...)
Police investigates a leaked video pointing to Slovak PM
Slovak police has started to investigate the suspicion that former Smer MP, Vladimír Jánoš, accepted money for the ruling party from the head of Hornonitrianske Bane (Upper Nitra Mines) in Prievidza, Peter Čičmanec and was passing the money further to governing party Smer or even to its leader, current prime minister Robert Fico.
It is worth mentioning that Upper Nitra Mines belongs to three mining companies which have received, just in 2010, approximately 100 milion € in state "dotations" for brown coal production.
The suspicion was initiated by social-media leak of a video in which the ex-wife of Janos describes the corrupt practices of her husband who used to bring home millions of euro in cash, packing them into aluminium foil (in order to prevent them from burning) and subsequently forwarding the money further to Smer and Fico. (Read more...)
Slovakia ignores EU refugee quotas
The European Commission has noticed that Slovakia has not been fulfilling its duties stemming from the EU quotas on re-distribution of refugees among member states.
By the end of October, Slovakia was obliged to state how many refugees it can accept and accommodate by the end of this year. In the first phase, 802 people should come to the country according to the approved quotas. Slovakia has reacted by saying that it will accept a maximum of 200 refugees. (Read more...)
9 European countries gravely concerned by Russia's 'aggressive' stance
Leaders of nine Central and Eastern European and Baltic states said in a joint statement on Wednesday they were gravely concerned by Russia's "continuing aggressive posturing" and backed a sustainable NATO military presence in the region.
"We will stand firm on the need for Russia to return to respect of international law as well as of its international obligations, responsibilities and commitments as a pre-condition for a NATO–Russia relationship based on trust and confidence," presidents of Slovakia, Estonia, Lithuania, Latvia, Bulgaria, Poland, Hungary and Romania + president of czech parliament said in a joint declaration. (Read more...)
Citizens commemorate the murdered student, Slovak police interrupts the prosecution
Exactly 10 years ago, not further than 150 meters from the building of Slovak Ministry of Interior, had the young man with long hair and a guitar died because of severe wounds caused by a knife attack. In the past, multiple persons from slovak neonazi scene - also associated with the mafia group known as "piťovci" - were charged and prosecuted the Ministry. However, all suspects were liberated during the office of the current Minister of Interior Robert Kalinak.
Whether both Ministries of Interior and Justice had done what they could to investigate the case is, of course, place for argument. But according to the father of the murdered philosphy student, they didn't, and while obliged to "accept" the non-prosecution of killers as a fact, the father still consideres as "a mystery" why the police refused to use the lie detector when in other cases (e.g. security clearances), it does. (Read more...)
IT professionals call for paradigm shift in informatization of slovak society
Almost 3000 Slovak netizens have signed the "call for opened collaboration" published on site slovensko.digital. In their call, many prominent IT specialist from private sector, 3rd sector as well as Academia openly criticize corrupt investments of public and european money and invite the government to collaborate on more transparent solutions.
Being far from marginal, signataries of the call have received support from the head of the state, president Andrej Kiska, stating that "after 8 years, the state has succeeded to accomplish exactly half of itss assignment - to spend 900 million euros" and labeling the current status quo of slovak informatic society as a "shame". (Read more...)
Two people charged in PandurGate
The investigation of the case which involves also one of Prime Minister Robert Fico's friends Miroslav Výboh, has been closed.
The Austrian prosecutor's office charged two people in the corruption case pertaining to the purchase of the armoured vehicles for the Czech Republic worth billions of Czech crowns. The part of the investigation which took place in Austria has been leading to Výboh and Israeli citizen Lova Drori, who worked for the Rafael Advanced Defense Systems Ltd. (Read more...)
sk16 project - a brief initiation
More than 9 months before the SK PRES and our websites sk16.eu and 2016sk.eu have been viewed more than 5000 times in less than 2 days. Hence, it is time to introduce ourselves:
Project sk16 is a tactical medium whose objective is to aggregate informations coming principially from non-establishement sources and furnish them - during Slovak Republic's 2016 presidency of European Council (SK PRES) - to international audience.
A brief introduction to the project is presented on this presentation (use arrows keys or spacebar to move between the slides).
In Slovakia, Ban Ki-moon highlights importance of living harmoniously and sustainably
Visiting the Slovak city of Levoca, the United Nations Secretary-General stressed the importance of the role of the local community, particularly mayors and governors, and the importance of living harmoniously and in a sustainable way.
"I am honoured and pleased to visit this historic city of Levoca, and I'd like to thank you for all your efforts to preserve this historical culture and heritage, and civilization and proud history of your country," Secretary-General Ban Ki-moon told reporters at the town's City Hall. (Read more...)
Government agency funds startup conference worth of 2% of European Presidency
Director of a partially state-run Slovak Business Agency starts to have some difficult time in explaining the (€1.4 million) costs of the startup conference TechMatch.
The fact that decision-makers of a country where an average monthly salary of a university teacher is estimated to be around € 890 eur a month (source) hadn't hesitate to pay €60000 euro to Guy Kawasaki had also raised certain eyebrows.
However, participants seemed to enjoy the event, notably after the Keynote speaker had reassured them that he's not to be associated with the motocycle production: "I have worked with Steve Jobs", boasted Kawasaki, thus initiating a singular event worth cca. 2% of budget of whole SK PRES 6-month presidency.
Slovakia qualified for UEFA's EURO 2016
FOR THE first time in the history of independent Slovakia, the country's football representation advances to UEFA EURO Championship taking place in France next year.
The match against Luxembourg ended up with a final score of 4:2. Slovak goals were scored by Marek Hamšík, Adam Nemec and Robert Mak. Mario Mutch and Jans Gerson scored for Luxembourg. Read more...
Slovak NGOs concerned about billion € over-pricing of Bratislava bypass
Being famous for its strongly pro-automobile politics, capital without a metro, capital with the least attractive central train station and the most expensive highways (12.5 million eur/km) in Europe, Slovak Minister of Transport and construction has decided to break another record in corruption-ressembling "friend-directed distribution of public and european money".
Thus, more than 4.2 billion EUR are supposed to be invested into 20th-century style circle of ring and asphalt and concrete surrounding Bratislava. Id est, twice as much as was invested into bypass of neighboring austrian capital Wien.
According to study recently published by non-governmental Institute for Economic and Social Reforms, the project is based on manipulated data and overpriced for at least 800-million euros.

Know more from the infographics: Better ways how to spend 4 200 000 000€ instead of overpriced bypass road.
Slovak President highly critical towards government's anti-refugee stance
President Andrej Kiska delivered a speech before the MPs of the Slovak National Council on the position of Slovakia in Europe on Wednesday. Here are the highlights from his address:
"Slovakia has the capacities to help. Accepting several hundred or even thousand people fleeing from the war and violence would definitely be in Slovakia's powers. It would pose no threat to Slovakia, nor would it have any impact on how good or bad the life of people living in Slovakia is. A lot of associations and individuals, Christian and other organisations have offered to help the people who are trying to escape the war and its atrocities." Read more...
EU presidency brings better air route
Slovak EU presidency will bring the country a more convenient connection with Brussels. The Irish low-cost airline Ryanair will fly passengers from Bratislava to Brussels' main airport instead of the more distant Charleroi airport as of April 2016.
"Ryanair … has promptly responded to our request to move its flight from the more distant Charleroi airport where it flew so far to the main airport Brussels-Zaventem as of April 2016," said Ivan Trhlík, CEO of Letisko M. R. Štefánika – Airport Bratislava, as cited in the airport's press release. "In line with the Slovak Presidency of the Council of the European Union from July 2016 the demand for a direct and regular daily air connection of Bratislava and Brussels will significantly increase." Read more...
Slovakia pushes ahead with legal action over EU migrant quotas
Slovakia is to take legal action at the European Court of Justice against the European Union's plan to force all member countries share out 120,000 asylum seekers, Prime Minister Robert Fico said on Wednesday.
Slovakia should initially take in 802 migrants under the EU relocation scheme, which it sees as an encouragement for migrants to keep coming. Read more...
The Five Grave Errors Of The Slovak Government In The Refugee Crisis
Let us focus solely on the last (at this moment) stage of this drama: The EU Council of Ministers has used the "nuclear option" of Qualified Majority Voting (QMV) in a politically highly sensitive area. The PM of one member state – Slovakia – says that he will simply ignore that legitimate decision. "From my dead-cold hand." He will deliberately breach European law, risking open conflict with the institutions and most of the other member states. Even the prospect of sanctions.
There are a couple of bad things you could say about Fico, but surely not that he's stupid. He knows that playing with deep-seeded prejudices – against "the others", which now means Muslims, against the "dictate from Brussels", etc. – scores political points. He knows only too well that infringement procedures take a long time to unfurl. No decision can be expected before the next general elections. For now, that´s what counts. And, of course, he knows that between now and a possible Court decision against Slovakia, hundreds of things could happen.
Read more...
S&D leader proposes expelling the Slovak SMER
On Wednesday, the President of the S&D Group in the European Parliament, Gianni Pittella, proposed to suspend the Slovak Direction Third Way Party (SMER) from the Party of European Socialists (PES).
This is not the first time SMER's membership of the Party of European Socialists would be suspended. The same happened in 2006, following the party's alliance with ultra-nationalist Slovak National Party. The PES Chairman at the time, Poul Nyrup Rasmussen, explained to the Slovak press that "… forming a coalition with the extreme right is unacceptable." Read more...
Conservative Socialism: the Curious Case of Slovakia's Social Democratic Party
European social democratic parties are parties traditionally associated with economic policies of taxing and spending and policies designed to fighting discrimination. And while most socialists in Europe remain true to these values, especially the latter, Slovakia's socialists live a comfortable illusion that they too can call themselves social democrats regardless of the policies they pursue...
While not neo-liberal in the extreme, the country's social democrats have found themselves more comfortable in a territory of the centre-right than that of the centre-left.The leader of the Slovak socialists and the current Prime Minister Robert Fico has attributed to and blamed the higher levels of unemployment on the Roma people who are mostly jobless. Unfortunately, the Roma are not the only minority in the country that has been blessed with attention from the so-called socialists. While issues such as gender equality and separation of Church and state have become taboo (in itself another failure of the socialists), Smer have authored and initiated, along with the Christian Democrats, an insertion into the country's constitution of a definition of marriage as exclusively between one man and one woman. Read more...
Letter of support for Plea for Humanity
As we can see, the refugees are certainly in need of acts of kindness. I hope there will be concerted efforts in doing whatever we can to help to alleviate their sufferings, considering that they are fellow brothers and sisters.
I am therefore pleased to join Member of the National Council of the Slovak Republic and many of his friends in their Plea for Humanity over the migrant crisis currently facing Europe. Read more...
JOINT STATEMENT OF THE HEADS OF GOVERNMENTS OF THE VISEGRAD GROUP COUNTRIES
We, the Prime Ministers of the Visegrad Group, meeting in Prague on 4 September 2015 on the occasion of an Extraordinary Visegrad GroupSummit on migration adopt hereby the following Joint Statement:
The countries of the Visegrad Group express profound sadness over the loss of lives of thousands of people in the context of the current migration situation in Europe. They underline that migration flows present a complex and serious challenge for the EU and its MemberStates. Hungary belongs among those most exposed to migratory pressures and affected by their impacts. The Prime Ministers of the CzechRepublic, Poland and the SlovakRepublic therefore reiterate their full support to Hungary in tackling this challenge. As an expression of their solidarity, the Prime Ministers stand ready to provide Hungary with further assistance. Read more...
A refugee
My own dreams are fading away. Dreams about returning home to my beautiful Slovakia, dreams about walking barefoot in the grass, drinking fresh water from the tap, speaking my mother tongue again…these dreams fade away because of one world: HATE. I still can't believe that back home, I will meet people who hate other people so much, wishing them death.
Nowadays, this is the hot topic, never-ending discussion in Europe and in my home country. I'm not able to provide a long term solution; these few words of mine are meant to lead to a small experiment. Look out of your home window please and imagine that this is the last time in your life that you see your familiar surroundings. Read more...
SK16.EU supports the Plea for Humanity
Today 71 people died on our doorstep. Children, women and men. They were not terrorists, they were people fleeing war. They died in terrible circumstances, suffocating in a van left parked at the side of a road.
It did not happen in Africa, it did not happen in the Mediterranean, it happened a couple of kilometers outside of Slovakia. If we liked to think that the suffering of refugees is something distant, something that doesn't concern us, we can no longer do so.
What happened today shows the suffering of refugees is not an abstract political problem. It is a matter of life and death of individual humans. No decent person can stay indifferent when people die before her very eyes. We must try to help. Read more...
Statement on the anniversary of invading Czechoslovakia on 21 August 1968
Today, the Slovak Republic commemorates the 47th anniversary of Warsaw Pact troops invading Czechoslovakia and the start of more than twenty years of Soviet occupation of our country. These events represent a dark chapter in the history of the traditionally good Slovak-Russian relations. The Slovak Republic appreciates that, in the past, top political representatives of the Russian Federation have officially dissociated themselves from and apologized for the August 1968 invasion and the occupation that followed. A necessary prerequisite for a constructive development of bilateral relations is to come to terms with the past based on historic facts.
Unfortunately, attempts to rewrite history and falsify the historic truth about the invasion of Czechoslovakia continue to appear. In May 2015, the All-Russian State Television and Radio Broadcasting Company (VGTRK) broadcasted a documentary entitled "Warsaw Pact – Pages Declassified" with the authors´ commentary containing misrepresentations and old ideological clichés. Read more...
Slovakia to EU: We'll Take Migrants — If They're Christians
Slovakian Interior Ministry spokesman Ivan Metik now insists that Slovakia will only accept Christian arrivals to the Eastern European nation. And he warned this week that Muslims should not move to Slovakia because they will not easily integrate with the country's majority Christian population.
"We could take 800 Muslims, but we don't have any mosques in Slovakia, so how can Muslims be integrated if they are not going to like it here?" he told the BBC. Read more...
Climate change also threatens Slovakia
EXTREMELY hot weather from which Slovakia suffered this year is beyond the expectations of climatologists. "What we are witnessing now should have occurred only in the middle of this century," climatologists Alexander Ač, Pavel Matejovič and Jozef Pecho wrote in an open letter to the president, the government, and the parliament, as quoted by the TASR newswire. "The reality is thus much worse than the most pessimistic climate scenarios."
The Environment Ministry claims it tries to stop climate change. The problem should, however, be solved also on the global level, said its spokesperson Maroš Stano. He also said that Slovakia in this respect supports European Union policy, as reported by TASR. Read more...